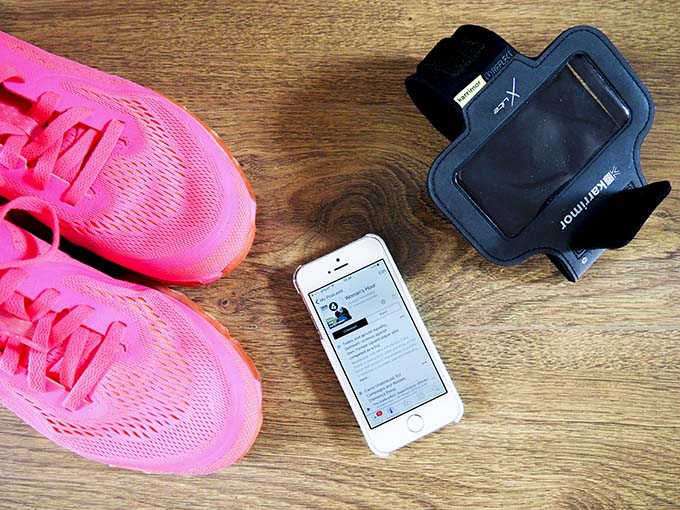 My relationship with running has been very off-and-on. Back when I was at uni, I was first introduced to the concept of running by my friend Cath, and together we would strap on our trainers, do a few circuits of the park and then copy some exercises from a feature in Zest magazine that she'd ripped out and kept. You know, the kind of feature where they recommend you get some cans of baked beans from the kitchen to use as weights, while you lunge.
But if I'm honest, I was kind of just doing the running (actually, the exercise) because my friend was, and also probably because I had a nagging voice in my head telling me that, at size 14, I was a bit fat.
Then, through my 20s, I dabbled a bit more with running – the genius thing about it, of course, when you're on a small salary and most of it goes on your extortionate rent, is that running is free. I did a few 5k charity races. Some friends went onto do 10k and one even did the New York marathon, to which my reaction was 'Are you absolutely MAD?'
But it's only now, age 37, that I can say "Oh right! NOW I get it. I understand running." And it's because for the first time in my life, I'm not running because I want to lose weight.
As soon as I do anything in order to lose weight, it's like my brain goes into sabotage mode. It's like a combination of indignant "As if I need to lose weight! I'm perfectly lovely the way I am. Honestly, there is more to someone that how they look!" and a complete lack of self-restraint, meaning ALL I WANT TO DO is eat all the cakes and sit on the sofa.
But just over a month ago, I started running again, not to lose weight but to see if it would boost my mood. Everyone knows what they say about running making your body release endorphins, and thanks to the hormone-related anxiety and depression which hits me for around 10 days every month, I was in need of something to help. And guess what, those clever scientists and experts are only bloody right.
When I go for a run, I feel so much better. Even on days when I feel fine before the run! Those lovely endorphins wash over me and stay with me for the best part of the day. I now find myself actually wanting to go for a run. This is a whole new thing for me. Running was always something that I had to force myself to do, and inevitably, something I'd stop doing after a while, and then feel guilty about it all.
5 weeks after my life-changing discovery (hey, allow me to be a bit dramatic here) and my love affair with running is still going strong. I've bought myself some proper running leggings and an armband for my phone. I save up the Woman's Hour podcasts to listen to, while I run – so not only am I helping my body and mind by running, but intelligent thoughts actually transfer into my brain via osmosis thanks to Jane, Jenny and co.
This morning, I ran 3.9km without stopping (top tip for new runners: always calculate your distance in km rather than miles, as it sounds like you've run much further). 3.9km might not sound like much to you, but to me, it's significant. It means that I feel fantastic today – just watch me tick off all the things on my To Do list…