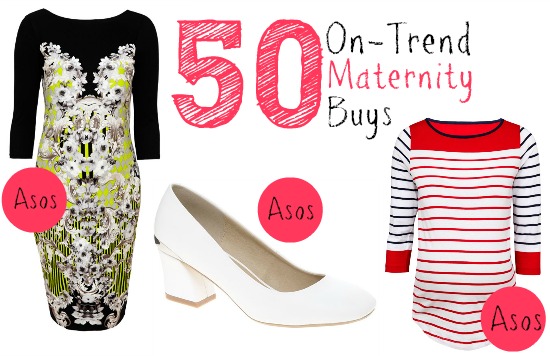 When you're pregnant, dressing can be a bit of a nightmare. Do you just wear your normal clothes for as long as you can? Buy slightly bigger sizes in loose-fitting styles? Or embrace the whole thing and buy lots of maternity clothes? It totally depends on your body shape and what you can get away with, but I personally recommend going for the buying maternity clothes option. Maternity clothes (unsurprisingly) are cut to allow loads more room around the stomach, but are still fitted elsewhere. While pregnant, if I'd worn something that was loose all over, I would have just looked like a Tombliboo (in other words, round and ridiculous).
My favourite places to shop were Asos, Dorothy Perkins and New Look. I didn't even bother going into actual stores – the size of maternity sections there was depressingly small, and the retail websites seemed to have the full ranges and a good number of sizes available.
I actually really enjoyed shopping for maternity clothes (partly because it was the first and only time in my life I've ever been able to wear bodycon) but I missed shopping in certain stores so much (Zara, WHEN will you launch a maternity range?).
I wish, back then, that I'd come across what I'm about to show you – an edit of 50 brilliant maternity clothes buys for pregnant women by LOOK magazine (*cough* no reason why I'm showing you this.) Seriously though, looking through the clothes and accessories today, I almost wished I was pregnant again just so I could wear some of them. (Disclosure: that feeling lasted around 3 minutes.)
In this selection – which is from a range of high street stores like Topshop and H&M and websites like Asos and Isabella Oliver – there are casual tops, dressy outfits for weddings, cool cover-ups, shoes with a mid-height block heel (so sensible yet so chic!) and bags that are big enough to cart around your hospital notes in.
Check out LOOK's maternity clothes edit now. Which is your favourite item? (Mine is the blue Next maternity dress)