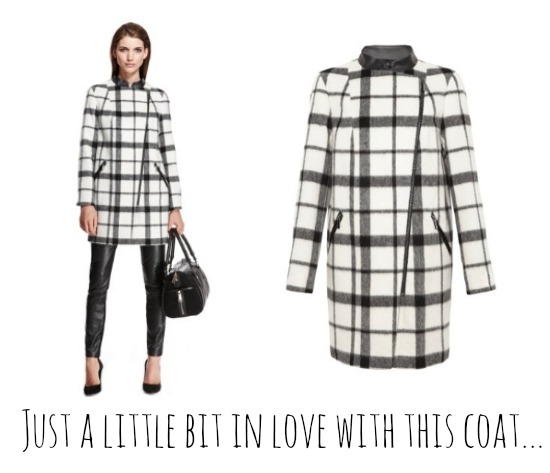 Do you ever get a bit obsessed with an item of clothing that you convince yourself you HAVE to own? I do. All the time. And the latest object of my obsession is a Marks and Spencer winter coat. I first spotted it back in May when I went to the M&S A/W press day (see my Instagram below from that day) and now that the coat is in store, my obsession has only grown.
But look at it! It's wool (therefore it's warm and will last), it's monochrome (so it'll go with lots of different colours) and the large check print is very on-trend. But the best bit? You can dress this winter coat up (a la the picture at the top) or dress it down. This coat isn't too dressy for a weekend walk in the park with my daughter on her scooter. I could totally wear it with my skinny jeans, t-shirt and Converse weekend uniform. But it'd also look fab with smart trousers and heels for work.
But I need to convince myself NOT to buy it. Why? I just don't need it.
Here are 3 reasons I shouldn't buy my dream winter coat:
1. It's £139. I know that might not seem like a lot of money for a winter coat to some, but it's a lot of money when I don't really NEED need a new coat.
2. It won't really go with the many (and I mean many) striped t-shirts I own. I see the check print working more with a block colour or a non-geometric print like floral.
3. It's got a lot of white on it. Am I just going to end up with Petit Filous and Ella's Kitchen fruit pouch contents shmooshed into the wool fabric? That would make me cry a bit.
What do you think? Should I buy it….?