School's out for summer! (OK, if you live north of the border, it's been out for quite a while now…) But it's time to plan some fun, get out there and enjoy this gorgeous sunny weather we're getting. There are LOADS of cool things happening in London this summer. It's a time of year when I feel so lucky we live here. But whether you're a local or you're planning a trip to the capital this summer, here are my top five things you should do…
What do you get if you cross unusual cocktails with locally grown herbs and flowers… with green-fingered fun for kids? Hahahopscotch at the Brunel Museum! This awesome-sounding event happens on the last Sunday of the month and while the kids get stuck into some soil and play traditional games like tug-of-war, you can get stuck into some infused cocktails.
Brunel Museum, Railway Avenue, SE16
27th July, 31st Aug, 28th September 2014
£4.50 per child
This show is by the team behind Warhorse and it looks fantastic. It tells the story of a young girl who has a phantom elephant in her house, and it causes all sorts of trouble…
New London Theatre, Drury Lane WC2B
Until September 6th 2014
Tickets start from £13
3. Camden Beach
Hang on, back up  – what? Yep, Camden has got its very own beach – on the roof of the Roundhouse. There are deckchairs, bars, food stalls, beach huts and a swimming pool. Kids are welcome, but after 5pm it might be a bit 'lively' for families.
The Roundhouse, Chalk Farm Road, NW1
July 26th – Aug 23rd 2014
Entry: Free
This one is happening this weekend so if you want to go, book up now (I've just booked two tickets!). After the success of last year's Dr Who Prom and Horrible Histories Prom, this year there are two CBeebies Proms at the Royal Albert Hall, starring lots of CBeebies favourites and uh-mazing classical music from the BBC Philharmonic.
Royal Albert Hall,  Kensington Gore, SW7
26th & 27th July 2014
Tickets £6 for kids and £12 for adults. Under 2s free.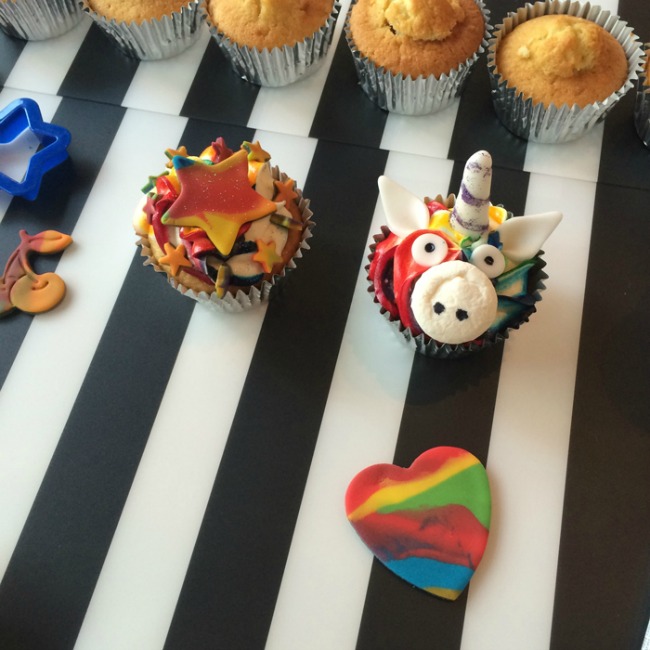 5. Rainbow and Unicorn Cupcake Decorating Class
I've got a bit of a thing for unicorns. I think it's because of a kids' movie I loved when I was little (The Last Unicorn – anyone else love it?). So BKD London's unicorn and rainbow cupcake class is up my street. Er, I mean my daughter's street. Clearly. We've been to the BKD London monster cupcake class and it was loads of fun.
Nancy's Pantry, Dalston Square, E19
18th August 2014
£18 per child
Where to stay
If you live elsewhere in the UK and you're coming to London for a few days of family fun, there are lots of Holiday Inn hotels dotted around the capital in great locations. I'd probably go for the Holiday Inn Regent's Park – just a short walk away from one of the best parks in London. family events london summer 2014
• Thanks to Holiday Inn for sponsoring this post. Please read my Work With Me page for info on how I work with brands.