For me, Mother's Day is just as much about spoiling my own mum as it is allowing Mr P and the six-year-old to spoil me. So this year, I thought it would be fun to go away on a Mother's Day break with my mum and the six-year-old. The six-year-old thought this was SO much fun – a girls only road trip! We put the Trolls CD on the car stereo, top volume, and headed for Wiltshire.
Widbrook Grange was our destination – from the website it looked LOVELY so I was keen to check it out with my own eyes. Thankfully, it lived up to our expectations. Originally a Georgian Model Farm, the reception, bar and restaurant are all in the main farmhouse building while the old stable blocks have been turned into a series of large, luxurious bedrooms overlooking a pretty courtyard.
When we arrived, we could hear laughter and shouting coming from the garden – it was the first mild, sunny day of Spring and a group of kids and their parents were making the most of it, playing on the grass. We explored the grounds and discovered a bunch of quirky surprises dotted around – an old milk float with crates of flowers on it, sculptures of farm animals, old farm machinery turned into art and a dinosaur carved from wood and sticks. The quirky theme ran throughout the hotel, with coat pegs made from garden forks and lamps made from milk churns.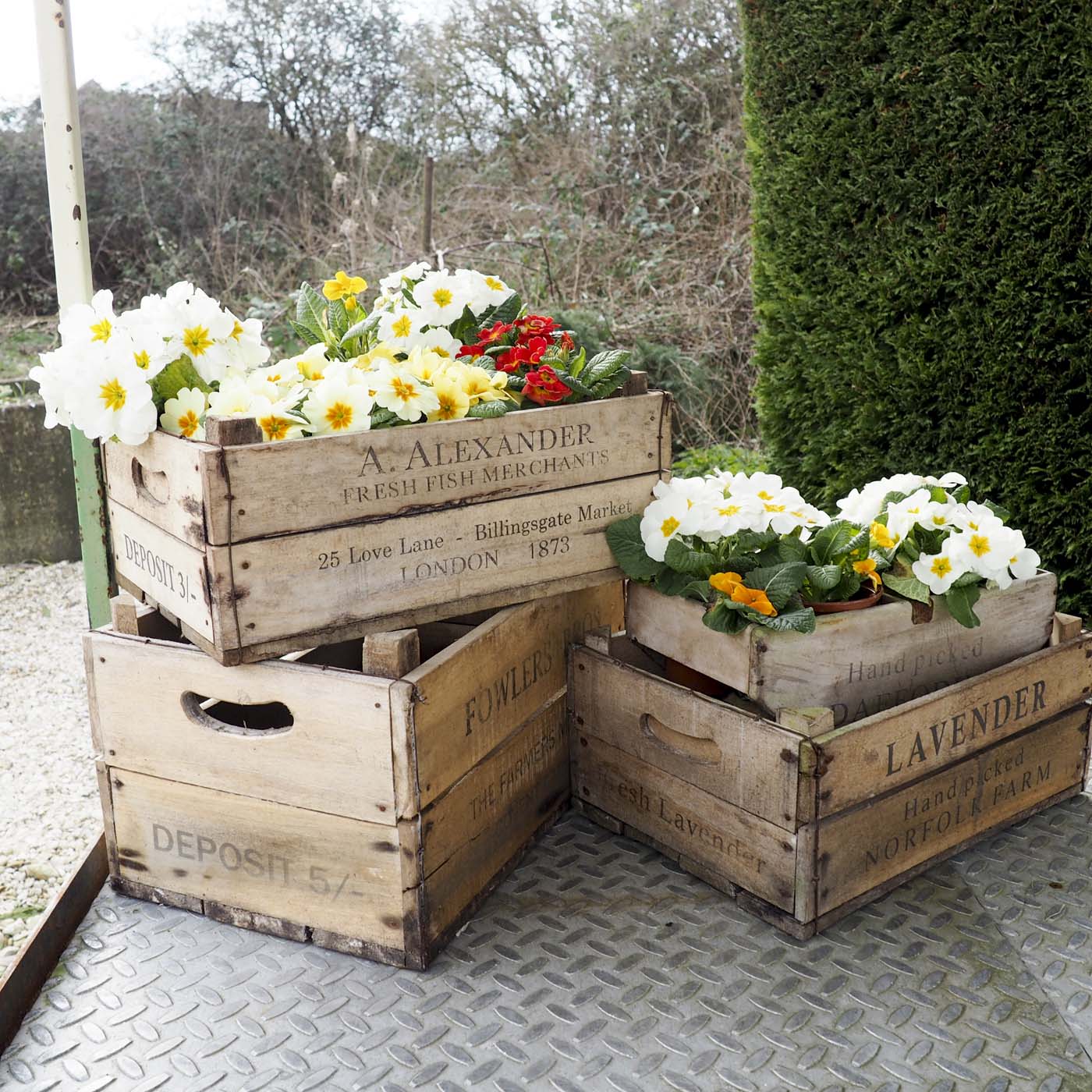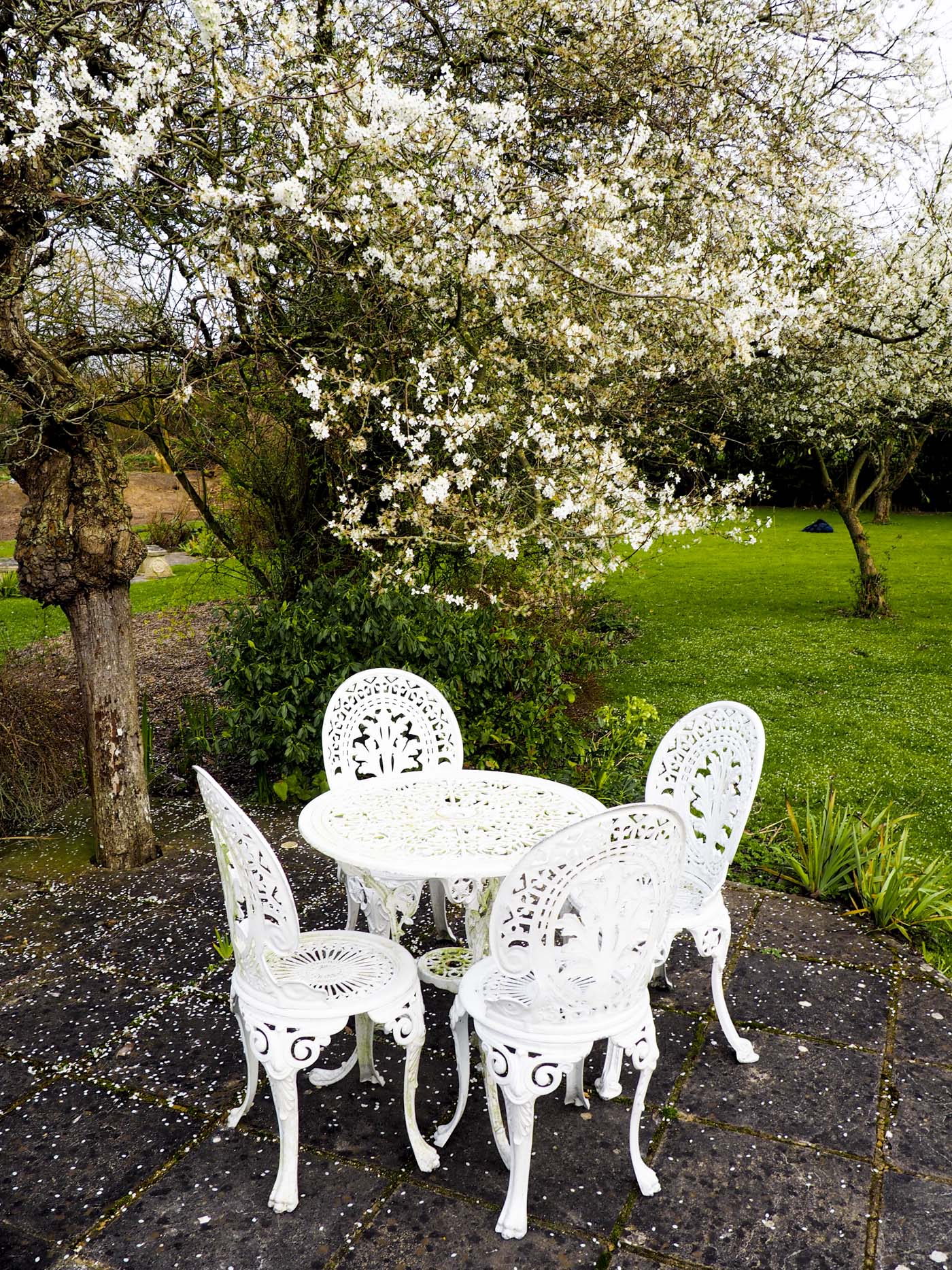 First things first, the six-year-old wanted to go swimming, so my mum took her into the indoor heated pool for a splash around while I explored the hotel a bit more. I was sharing a twin room with the six-year-old and our room had a back door which led into a corridor. My mum's room had a back door which led out to the same corridor, meaning our rooms adjoined. Both rooms were decorated differently – with a mix of vintage pieces and modern lighting. The beds had white Egyptian cotton sheets and the bathrooms had huge rainfall showers.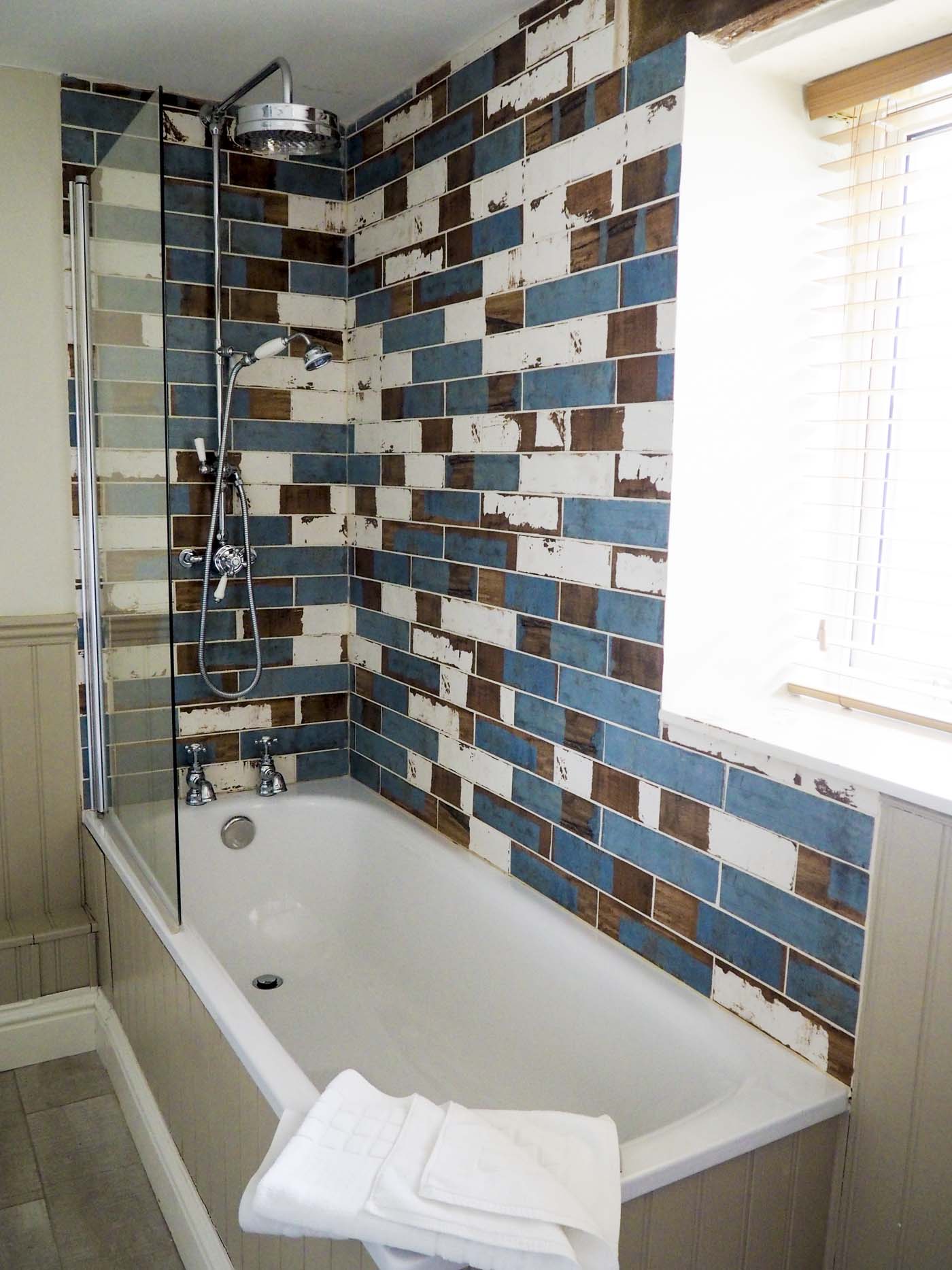 After swimming, I popped the six-year-old in the bath (washing her hair with the complimentary Bramley shampoo and conditioner… "My hair smells of lemons!") then we headed to the bar for a pre-dinner drink. If you go to Widbrook Grange, go for no other reason than this: their bar has 50 varieties of gin and lots of different tonic water. I was like a child in a sweet shop! After much deliberation, we plumped for a Sipsmith gin with 1724 tonic. And it was GOOD. The six-year-old had an apple juice.
Dinner in the restaurant was swift – due to the six-year-old's tiredness which saw her fade fast – but delicious. The kids' menu had things like cheesy garlic bread, pasta and chicken – but the kitchen staff seemed flexible and I even saw another family ask if they could heat up some Uncle Ben's rice for their toddler. I ate goats cheese with beetroot followed by steak – both were tasty – and when our gin was gone, we ordered a bottle of Marlborough Sauvignon Blanc.
We skipped dessert – the six-year-old was rubbing her eyes and climbing up onto my knee by this point, so we knew it was time to head back to our rooms – but we took the remainder of our bottle of wine back with us. Waste not, want not, and all that!
Once the six-year-old was tucked up in bed, I tip-toed through to my mum's room and we polished off the rest of the wine. This is why I love an adjoining room!
The following morning, it was a 6.30am start as always with my daughter (zzzzz when will she learn to lie in?) but the huge powerful shower woke me up and we headed for brekkie with a spring in our step. I say this a lot, but I truly think that a breakfast can make or break a hotel experience. Badly poached eggs are one of the worst things in life. Did Widbrook Grange pass the breakfast test…….?
Yes. Yes they did. From the array of cereals, fruit salad, pastries and yogurt on offer to the cooked breakfast options, everything was covered. I went for a Full English (perfectly poached eggs – hurrah!) and the six-year-old arranged a mini breakfast picnic with pain au chocolat, Rice Krispies, toast, bacon and baked beans.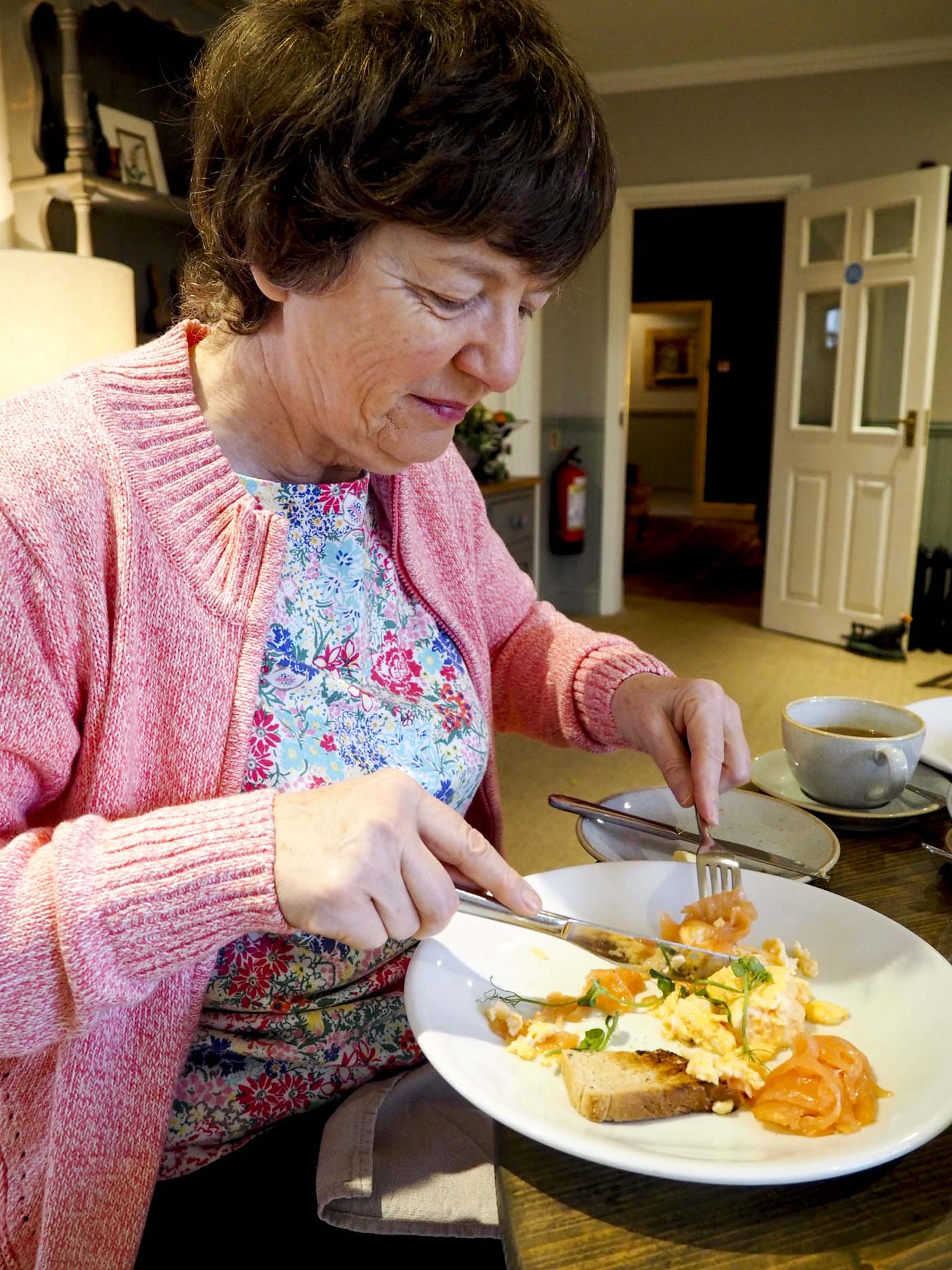 The staff recommended a walk into nearby Bradford-On-Avon, so we set off after breakfast, to look for the canal-side path. In retrospect, walking along the muddy canal-side with its numerous big puddles in new white trainers *might not* have been my best idea ever, but did I let that stop me? Did I heck. After half an hour of narrow boat spotting and some duck spotting too, we arrived in Bradford-On-Avon and searched out a tea room. Someone on Instagram had recommended the Bridge Tea Rooms so we headed there and despite still being full from breakfast, we squeezed down a scone with our tea.
Bradford-On-Avon is a lovely place to just wander – cute gift shops, charity shops, tea rooms and the odd pub make it ideal for whiling away a weekend morning.
We opted for the road-route back to Widbrook, which allowed me to snap a few pretty doors on the way, and we sang Trolls songs to keep the six-year-old from getting too bored. Back at the hotel, it was time for lunch and we had a table booked at The Boathouse, just across the road. Our table overlooked the marina, which allowed for more narrowboat gawping, and there was even a kids' play area outside.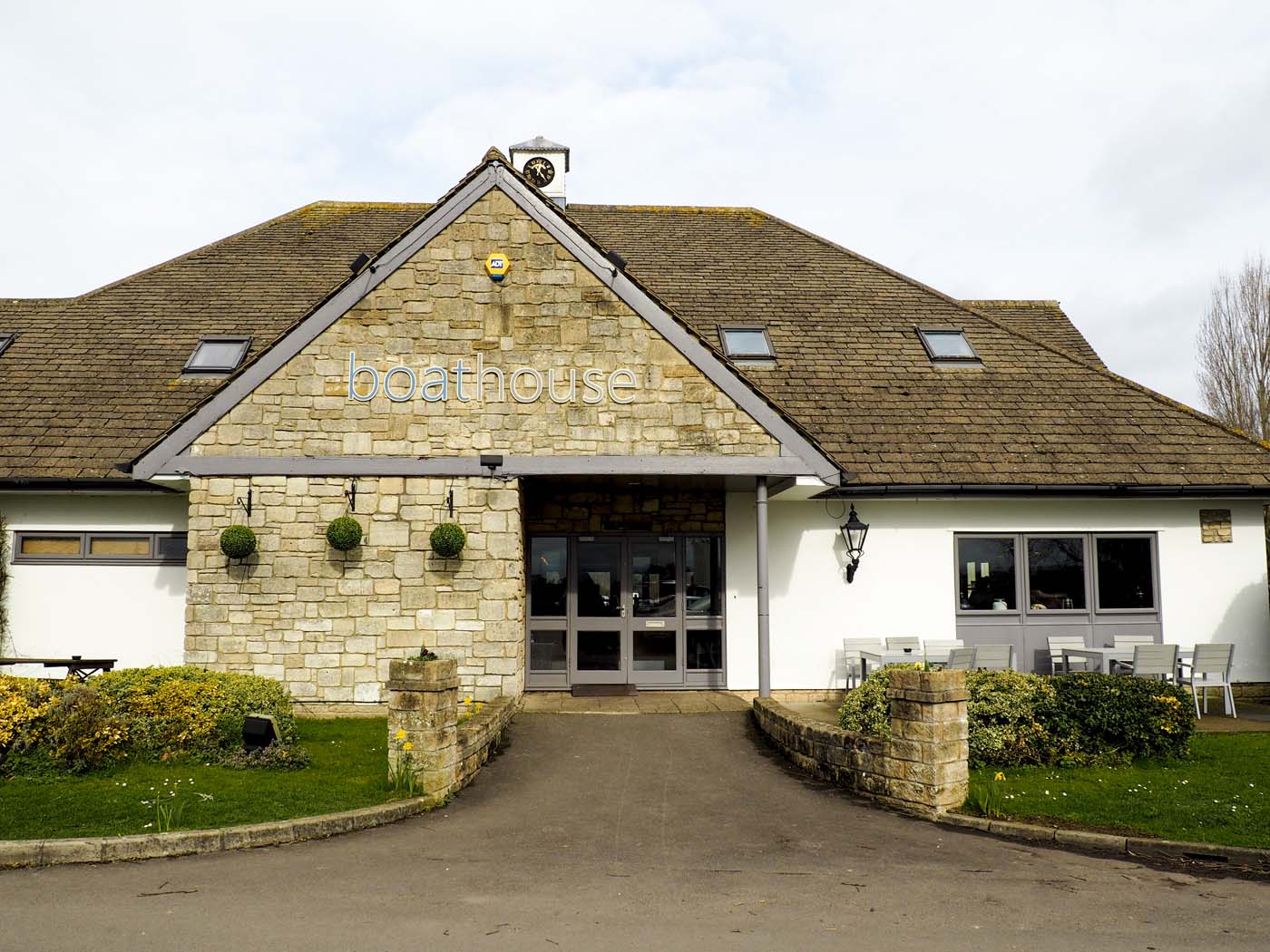 Now I'm not one to exaggerate but my roast beef was, without a doubt, one of the best I've ever had. The meat was so tender, the roast spuds were cooked to perfection and the Yorkshire pud was as big as my head. The six-year-old had a handmade mini burger and chips, which got the thumbs up from her and there were plenty of meat-free options for my pescatarian mum.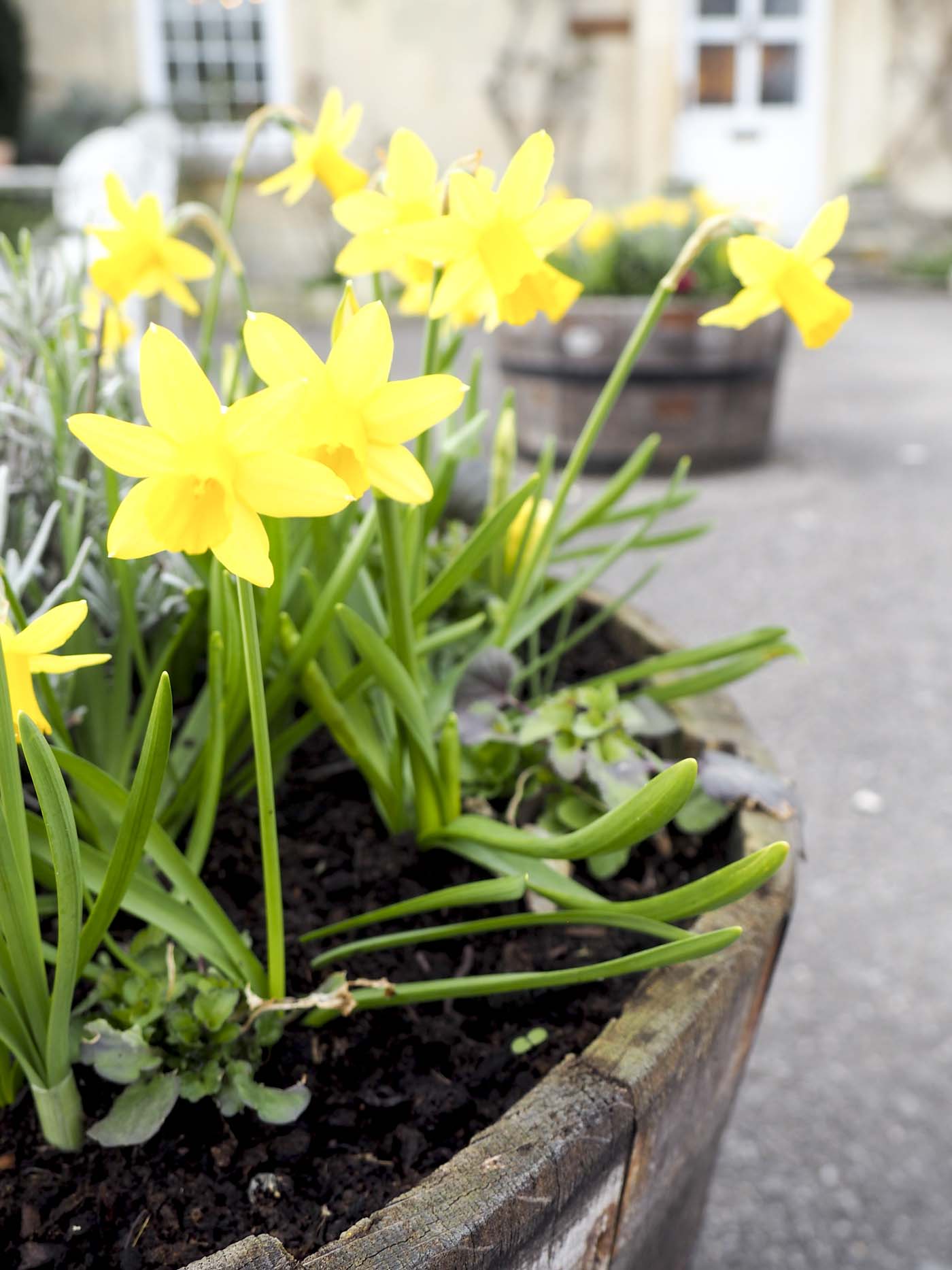 We definitely left Wiltshire with tighter waistbands but as far as Mother's Day weekends go, this was an excellent one.
For room rates, special offers and online booking, visit the Widbrook Grange website. This post was commissioned by Widbrook Grange and as always all views are my own. For details on how I work with brands and destinations, see my Work With Me page. See more travel posts from me here.