Someone says "Butlins" to you, and what do you immediately think of? The seaside. Chalets. Red coats. Cabaret shows. Hen and stag dos perhaps. It's probably fair to say that its reputation dwindled a bit in the 80s and 90s, but since 2000, Butlins have invested £70million in their facilities and I've heard lots of parents talk about what a brilliant place it is for a UK family holiday. And this month, Butlins have launched a special break for families with  pre-school age kids – the Just For Tots breaks are jam-packed with entertainment aimed at under 5s and have loads of activities included in the price you pay when you book. Sounds like the dream, right? We were asked to road-test the Just For Tots break, and I headed to sunny Bognor Regis on the south coast of England, with my mum and three-year-old, ready to have some serious fun. We stayed for four nights in a king room, with partial sea-view, at the Shoreline Hotel (one of three hotels – Ocean and The Wave are the other two) and it was close to the beach and a two minute walk away from the action. Rooms were basic but comfortable and staff were super friendly. The same break in June 2014 will be £367.

So what did we think? In a nutshell, there were lots of fantastic things about the Just For Tots break. There were also lots of things that weren't so fantastic. If you were to ask my daughter if she'd enjoyed her holiday, she'd nod enthusiastically and ask when we're going back! But my view, as a grown up, is slightly different, so (ahem) borrowing a concept from fellow blogger Morgana from But Why Mummy Why, I thought it would make sense to tell you what the three-year-old thought and what we thought. If you've booked to go to Butlins, or you're thinking of going, this might help.
She LOVED Butlins. In fact, we've been home a few days now, and she hasn't stopped talking about it. Her favourite things were:
The swimming pool – She liked the small slides and the rain that came down on you as you walked around, and she really loved the large bumpy slide that she went on with me.
The art and craft sessions – held on one day we were there, you could go into the Beach House and make a fish with pens, glue and lots of fun things to stick.
Billy's Playground – Situated right next to our hotel, this play area has tunnels to crawl through, a swing, a large sandpit, and water play area. The three-year-old had a great old time in here, and it remains open all day and evening.
The fairground and indoor tots' rides – We spent the week racing around different rides and the three-year-old was in heaven. From the helter skelter and carousel in the fairground to the gentle indoor tots' rides (aeroplanes, ladybirds, teacups and cars) she could have happily spent all day going on ride after ride. The queues were always short and the staff were amazing at chatting to the kids and high-fiving them as they went past on the ride. Just brilliant.
The live shows – The variety of live shows during the week was fantastic. We watched Bananas In Pyjamas, the Skyline Gang, Thomas the Tank Engine, Angelina Ballerina, Barney the Dinosaur and Billy Bear's Bedtime Story. We could also have gone to see Scooby Doo, Fireman Sam, Mike The Knight and puppet shows but we were alway busy doing other things. The Red Coats sat with the kids, watching the shows and encouraging them to dance and join in – they were all so professional and friendly. All of the shows we saw were fab and they managed to hold the attention of some pretty young kids. The Skyline stage is set up brilliantly so that kids can sit on the ground at the front and parents can sit at tables behind.
The Usborne Book Corner in Bar Rosso – It's dark, quiet and you can sit on a brightly coloured beanbag while reading one of the 100 brand new books. The three-year-old spent a blissful 90 minutes in here one afternoon.
The kids' den in our room at the Shoreline Hotel – A small alcove near the door, it had bunk beds and a flatscreen TV and DVD player. She was so excited to have her own little area.
The character breakfast in the Shoreline Hotel – she loved seeing Billy and Bonnie Bear work their way around the restaurant, posing for photos with each table.
Billy Bear's bedtime  – If you're staying at The Shoreline, make sure you help to tuck Billy Bear in one night. Gather in the reception at 8.15pm and Billy will appear in his PJs. You then head up to his bedroom with him, sing him Twinkle Twinkle and tuck him in. The three-year-old thought this was so exciting, and although she was too scared to have her photo taken with him, she stood by his bed and sang to him.
The ice cream at Scoop – really delicious and fun to eat outside, next to the bright pink cows!

What she didn't love:
The swimming pool was only open for four hours a day, between midday and 4pm (or so we had been told…carry on reading to find out what happened) and she got very upset when we told her on two different mornings that we couldn't go swimming until the afternoon.

There's no denying that there were lots of things that impressed me about Butlins – seeing my daughter have so much fun was fab. I could see that a lot of thought has been put into making this a brilliant break for pre-schoolers. These were the things I loved:
On check-in day, an entertainer worked her way down the long queue at reception, keeping kids happy
Bonnie Bear appeared to meet the kids as they arrived at The Shoreline Hotel
There were airport-style trollies available in the carparks to help you lug your bags to your room
There was always free tea, coffee and juice in the hotel reception – and a TV with kids' programmes playing
Every toilet we went into had a lower sink and soap for little ones
Our bathroom in the Shoreline Hotel had a step for getting to the sink and loo
Our room in the Shoreline Hotel had corner covers on the furniture, to help avoid little ones from hurting themselves
There were plenty of baby change facilities
Restaurants had dedicated, low, buffet serving areas for kids to see their food and choose it, and areas to warm baby food and bottles of milk
Kids' meals always came with the options of vegetables – something they have Annabel Karmel to thank for, as she has devised their menus
There were buggy parks in sensible places at all of the theatres, swimming and activity areas
Staff were always friendly and ready to engage with the kids as we walked around or visited restaurants
The food we ate was pretty much all delicious. Some of the buffet food didn't look that appetising, but it tasted really good
On the flip side, there seemed to be a lack of attention to detail that left me feeling disappointed. These were the things that didn't impress me:
Lots of grubby cutlery and plates – We ate at a variety of restaurants (The Shoreline buffet, The Deck, The Beachcomber and Turner's) and we were given dirty cutlery at almost every meal (Turner's, you won that one… only clean cutlery from you). I came across three or four dirty plates at the buffets too. This feels like a really basic thing that Butlins needs to be keeping an eye on.
Hygiene seemed to be a slight issue elsewhere at Butlins too – On our second visit to the swimming pool, we noticed at least a dozen used plasters that had been washed up, under a rock. It looked like they'd been there for at least a few days. The Centre Stage theatre, where we watched Bananas In Pyjamas, stank of stale alcohol and sweat. You know that gross nightclub smell you get when carpets haven't been deep-cleaned in a while? That.
Fun stuff closed fairly early every day – One of the most frustrating things about the week were the opening/closing times of things. On our first day at Butlins, we took a wander around just after 4pm, and found most things closed – the soft play area, the tots' indoor funfair, the fairground and the Little Tykes area. Further investigation told us that they all close at 4pm every day, which seems crazy, when you have young kids who want to carry on taking part in fun things until dinner time.
The restaurants closed very early – the ones we visited all closed at 6.30pm (apart from Turner's which closed at 7pm – you guys win again!). We usually eat a bit later on holiday, but couldn't. Plus The Deck restaurant ran out of lots of food by the time we ate there (there was one thing my non-meat-eating mum could have) and when we went to get pudding from the buffet, it had all been cleared away. I think a break aimed at families should have a degree of flexibility – all families have different needs and schedules.
Waiting time at The Shoreline Hotel buffet – I don't mind waiting to be seated when restaurants are busy, but each time we ate there, we were asked to wait for between five and 20 minutes before we were seated, and there were always plenty of free tables inside! One morning, I counted 12 families all waiting for ten minutes or so, and there were more than 12 available tables. Their system for clearing tables quickly, setting them up and communicating this to the (lovely) lady at the entrance needs a bit of a rethink…
Times were printed incorrectly in the pack we were given at check-in – The Just For Tots pack said that the pool was only open between midday and 4pm each day… but on our fourth day at Butlins, we chatted to a member of staff at the swimming pool, and we asked why this was the case and she explained that, actually, during Just For Tots breaks, it's open from 9am. This left me feeling frustrated that we could have gone swimming in the mornings, if only we'd known. Gah!
The partial sea view that would cost you £53 extra wasn't that great – yep, we got a partial sea view, but we also got a partial view of the Butlins goods entrance, with lorries delivering stuff across a car park.
Safety in the hotel room – While the three-year-old loved her den area in the Shoreline Hotel room, it was right by the door and we were aware that kids could easily get out of bed, unlock the hotel room door and get out into the hall, before the adults in the main part of the hotel room could do anything. There was no chain on the door and no high can-only-be-reached-by-adults lock.
There was some construction work  on – This won't be the case all of the time, of course, but they didn't seem too great at masking the construction behind decent hoarding. There were beautiful flowers next to it, which just seemed a shame, as we often didn't notice the plants next to the construction. We kept referring to how (in contrast) Disney parks are so good at hiding construction – you'd never know it was going on. (But OOH look! A branch of The Diner is opening up soon – that is excellent news.)
The lack of quieter areas – From a grown-up's point of view, I could have done with more quiet areas for us to escape to, as a family. The Usborne Book Corner was blissful, and the craft session was fairly chilled, but everything else was LOUD and BRIGHT and FUN. This seems like a crazy thing to say but there was almost too much fun stuff for my three-year-old to handle. It was like a sensory overload and combined with tiredness, it meant she had lots of tantrums and spent a lot of the week moaning (er, apologies to the parents who had to witness the four or five meltdowns). We spoke to a few other parents at Butlins who all said something similar – their usually well-behaved kids had become over-tired and over-stimulated there. A few more quiet corners would help this, hugely.
So, would I go back to Butlins? Quite possibly. But I'd have to be ready to turn a blind eye to the hygiene thing, I'd balance the fun with calmer activities and I'd book into an apartment or the Wave Hotel.If you're going to Butlins in Bognor Regis, here are some top tips to help you…
Before you book, think about whether you want to stay in a hotel or one of the apartments. The Shoreline rooms have the brill kids' den with bunk beds and a TV,  so they're tucked away from the main room. But they're still in the same room as you, and once they're in bed, you have to creep around quietly. I think we would have been better off in an apartment, or The Wave Hotel (which has a cool looking submarine style kids' room within your room) and once the three-year-old was asleep in her room, we could have had a glass of wine, watched a DVD and probably relaxed a bit more.
If you can, try to arrive at lunchtime. By 3pm, the queue at the Shoreline reception was around 20 families deep. The other hotels would be similar, I'd imagine.
Once you've checked in, book your evening meals straight away. There was a long queue for this, but it's worth it to get them all booked, otherwise you might find they're full.
Eat in Turner's at least once – owned by celeb chef Brian Turner, this was the best place we ate in by far.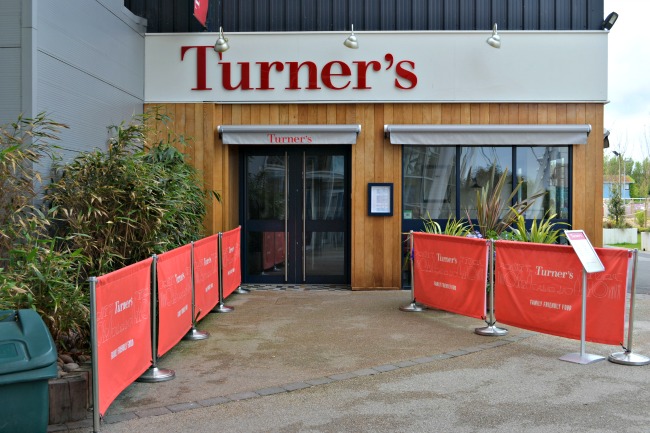 For lunch, The Beachcomber pub is fantastic. A great selection of food, from salads to fish and chips, and a fab kids' menu too.
If your little one is watching an afternoon or evening show at the Skyline Stage, get a wine from Bar Rosso and sit at one of the tables at the Skyline Stage. Win win, right?
On sunny afternoons and evenings, the Beachcomber pub has outdoor picnic tables next to an ace wooden play area – perfect to sit with a drink while the kids play (plus – brilliantly – this play area doesn't close at 4pm, it closes at dusk!)
Take a stack of 20p coins when you go swimming – the hairdryers take them and you'll need around 3 or 4 to get your hair dry and a couple for a child.
Spending four whole days with kids at Butlins is TOTALLY EXHAUSTING. So if you're there with another adult, my top tip is to take turns being with the kids doing activities, while the other one chills out somewhere, and then swap. After all, the purpose of a holiday isn't to come back feeling frazzled.
Schedule in some quiet activities each morning and afternoon, so that you're not bombarding your kids with sensory overload. We didn't find it, but apparently the football pitch area was nice and quiet, so wandering up there to read or draw would be a fab idea. You could also walk to the beach, but we didn't actually see any signs telling us how to get out to the beach, while we were there (although beach buggy walks were advertised so there must be an easy exit to the beach somewhere.)
Try to steal two hours to visit the spa. We didn't make it (I felt too guilty, leaving the three-year-old with my mum for a couple of hours) but it looks fab. It's probably worth pointing out that Butlins used to have a creche, where you could leave your kids and head to the spa for a while, but staff told us they've closed it down, which is a real shame.
Big thanks to Butlins for inviting us along to road-test the Just For Tots break. You can read more of my travel reviews right over here.