If you're looking for a fun, relaxed UK family break, Bluestone National Park in Wales should be right up there on your list. Set in the Pembrokeshire countryside, Bluestone is a huge resort with eco-friendly wooden lodges surrounding a small 'village' area with shops, places to eat, spa and a play area. A short walk away is a huge activity centre and a leisure centre style swimming pool. We recently spent four nights there and we loved every minute.
Why it's amazing, in a nutshell
Bluestone National Park offers something for families with kids of all ages – so whatever stage your family is at, there's loads to do. For younger kids (like our three-year-old) there's the outdoor play area, soft play zones in the Adventure Centre and activities like messy play and puppet making. For older kids, there's archery, climbing walls, a tree-top obstacle course and a 40ft zip wire and kayaking. For all ages, there's the swimming pool with flumes and a fun toddler area. It's beautiful to walk around, with wild flowers and forest paths and there's a big selection of eating places. Oh and it has a fab spa to relax in too.
What's the accommodation like?
The lodges are all modern and clean – our Caldey Lodge was semi-detached (with an adjoining door which would be handy if you knew the family next door) and had an open plan kitchen/living/dining area with patio doors that opened out onto a paved and grassy area with a wooden picnic table. We had a bathroom (with bath, although not all lodges have them, so if you have a baby or toddler to bathe, be sure to ask for a bathroom) and two bedrooms. It was the perfect base for our holiday – lots of room to do jigsaws and play, comfy leather sofas to snuggle on watching CBeebies before bed, and a great space for cooking and eating. The decor is all a bit beige and safe, but suited the wooden eco lodges.
On our first evening there, we had a picnic style tea outside on our picnic table (with cheese, bread, ham, olives and houmous bought from the grocery store on-site). Word of warning though: the local seagulls like to congregate near you if you're eating outside, and we saw one dive bomb for a piece of garlic bread on our neighbour's picnic table!
The patio area was also perfect for having an evening wine once the three year old was in bed…
The Caldey Lodges have a dishwasher, fridge, microwave and cooker/oven. You get a little starter pack of two dishwasher tablets, mini bottle of washing up liquid and cloth (plus a tea towel) which, depending on how much you're planning to cook and eat in, might be enough to see you through your stay. But you might want to take a bottle of Fairy Liquid and some extra dishwasher tablets. Our dishwasher was in need of salt and rinse aid, so our dishes didn't come out sparkling clean but we managed to rinse and scrape!
There are no laundry facilities on site – either in the lodges or in a central launderette, but if you're really desperate, they can launder items with a 48 hour turn around.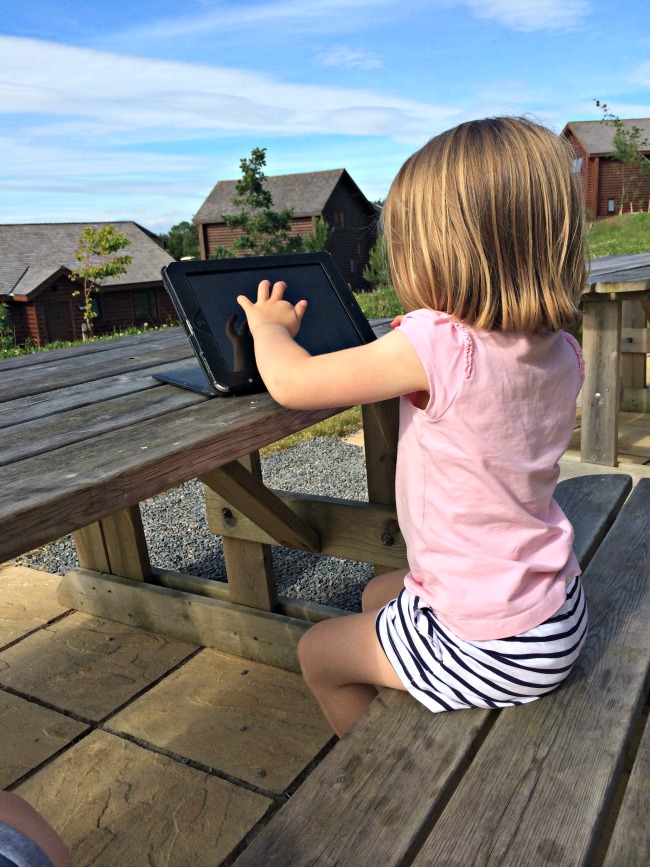 Our favourite activities
The Blue Lagoon swimming pool is amazing – as well as the flumes for older kids (and grown ups) they have a dedicated shallow toddler pool with mini slide, an area with water jets and rain fall plus a lazy river that takes you outside and then back in again (which our three year old LOVED!). From the lazy river, you can get out into an outdoor decking area with sun loungers – perfect for a spot of sun in the summer.
The outdoor play area is fantastic on a dry day – tunnels, swings, slides and lots of areas to explore.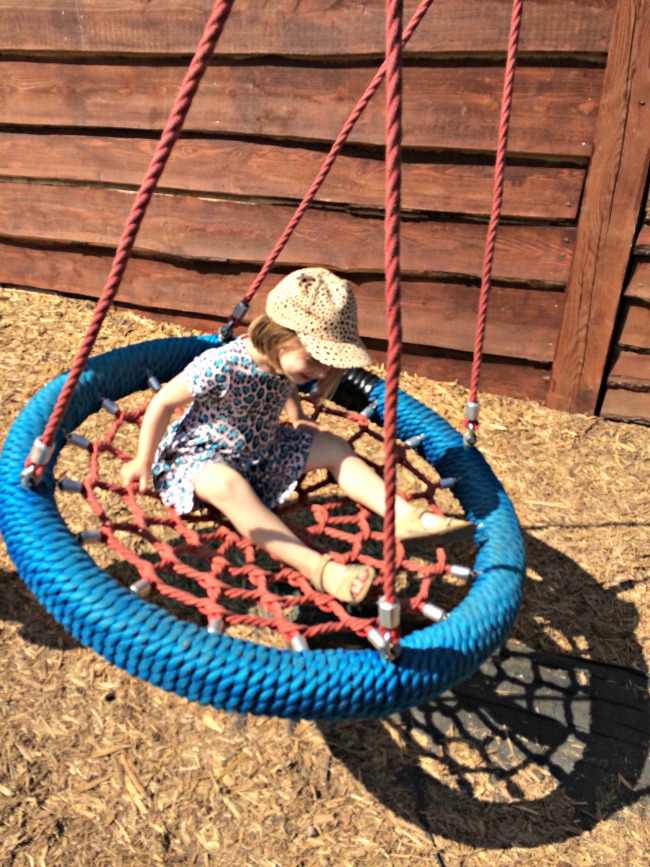 We pre-booked a session in the crèche and our daughter had an awesome time. So much so, she asked to go back! The staff were really friendly and she did lots of fun activities with them.
The puppet making workshop was brilliant – lots of materials to use. The two staff members at the workshop didn't help the kids, which was a shame – instead, they stood at one end of the room making their own puppets. But we had an ace time, getting stuck in with glitter and feathers and felt!
I was really impressed with the indoor Adventure Centre – packed with free things to do from a bouncy castle to soft play to mini golf. There's also a climbing wall and arcade machines (I might have relived my youth playing Outrun).
What about the grown ups?
When I wasn't kicking some racing butt on Outrun *cough*…. there were lots of things that appealed to my more grown up side. When the three-year-old was in the creche one morning, I headed to the spa for a couple of hours. It's small but lovely – lots of different thermal rooms to sit in while you relax and a decked outdoor area with sun loungers and a plunge pool (with water jets to pummel your back!). You can book ESPA treatments and there's a cafe there too, which  wasn't open when I was there (Booo! I really fancied a smoothie while I sat in my robe, reading magazines on a lounger!)
While I was at the spa, Mr P sat outside the bakery with a coffee, croissant and book, chilling out in the sun. For more energetic grown ups, there's loads of stuff to do like rock climbing, laser combat, a giant indoor swing (which my fellow blogger Franglaise Mummy went on), assault courses and more. We were happy doing the, er, less energetic stuff.
Eating out
We did a mix of cooking and eating in our lodge (the Village store is fairly good for fresh veg and meat – and there's a giant Tesco 20 minutes away in Haverfordwest) and eating out. In particular we'd rate:
The Bakery for pastries, coffees, smoothies and ice creams.
The Wildwood Cafe for a family lunch (they have a huge tree in the middle of the room with dragonflies and creatures all around… and an awesome little den with bean bags and a TV that was showing Frozen on a loop when we were there.) The Wildwood Cafe is also where they do the Once Upon A Time dinner shows which is fun in a fried-food-and-giant-character-telling-a-story kinda way.
Carreg Las for a cosy date night (if you have someone to babysit… brilliantly we had Sophie from Franglaise Mummy on hand!)
The Knights Tafarn for a drink – they made me a brilliant Pimm's and lemonade in here, with all the fruity trimmings.
Getting around
Before we got to Bluestone, we assumed we'd have to hire bikes to get around (like you do at similar places like Center Parcs) but by the time we tried to book them, they'd sold out of the attachable seats for younger kids. In reality, however, we didn't need bikes. The resort is so small that everywhere is easily walkable. There are lots of hills, but even our daughter whose favourite phrase is "My legs are tired!" coped well. Lots of people hired golf buggy type carts to zip around in, and if you have really young kids or you're with someone with a mobility problem, these would be ideal.
It rained on our last day there, and we jumped on the land train to get to the Adventure Centre, but on the way back, we walked and enjoyed jumping in puddles in our wellies.
What to take with you
Kitchen basics like salt, pepper, ketchup, oil etc.
Tin foil/sandwich bags for covering food once it's open.
Bin bags (you're given one but might need more)
Toilet rolls and kitchen roll
Kitchen anti-bac spray
Washing up liquid and dishwasher tablets (take salt and rinse-aid if you're being super efficient)
What's nearby?
We only ventured out of Bluestone one day (there is genuinely so much to do, we had to skip a few pre-booked sessions to make time to leave!). We headed to nearby Folly Farm which has animals, an indoor funfair (the dodgems were SO much fun), ferris wheel, mini tractor track, soft play area and loads more. There are also some fantastic beaches nearby too, although we didn't make it that far!
The only negatives
In a holiday filled with amazing positives, there were a few things that left us feeling disappointed (not many holidays are totally perfect, right?)
The barrage of emails – In the three months between the booking being confirmed and us arriving at Bluestone, I received two marketing emails a week from them – that's 20 emails. 20 emails! It felt really OTT, like they were trying to get us to book lots of extras on top of our break. One or two reminders to book activities would have been sufficient.
The online activity booking system feels a bit stressful – it took me ages to discover the PDF with descriptions of all the activities so until then, I was blindly looking at the lists of activities available each day, not knowing what they entailed. Without the PDF to cross reference, we nearly missed the crèche sessions because on the online booking form, they're called things like 'Jungle adventure' or 'Space quest'. Also, when you're adding activities to your basket, you only get 20 minutes to complete it, before your basket empties, which makes it all a bit of a rush.
(Of course, some of the many emails Bluestone sent me may well have explained an easy way to book activities but I received so many that I stopped opening and reading them!)
The main issue I had, however, was the door locks in the Caldey Lodge accommodation. We were unable to lock our patio doors, despite ten minutes of lifting handles, turning knobs, pulling and pushing handles. Bluestone quickly sent a maintenance man to fix the doors and on our third day, it was explained to us that there is a 'knack' to locking them. Bluestone have assured me that this isn't typical of their Caldey Lodges and that they'll put a sign up in that lodge to let future guests know how to lock the patio doors. It all felt like a real faff and our lodge was unlocked and not secure for long periods, before we were taught the special knack.
More of an ongoing concern is the lock on the front door of the lodge. To enter, you use a key card, but to exit the lodge, you just turned a standard lock to the left and open the door. Our three year old could easily unlock and open the door on her own – needless to say, we warned her not to open the door unless we were with her – but it's surprising that Bluestone haven't made the locks higher up to stop young kids from opening the door and wandering off. I raised this with Bluestone and Owain Betts from their PR team told me: "We haven't had any issues with the locks on the front doors to date and safety is paramount for us. But as we develop the park, it is something we will look into and your comments have been passed on."
But do you know what? Even with these few negatives, I would heartily recommend a stay at Bluestone – it's so good we want to book to go back. Look how happy we look in this snap taken by our daughter on our last evening there…
Thanks to Bluestone National Park for inviting us to stay for four nights for the purpose of this review. For more information on how I work with brands, see my Work With Me page.