My series of posts on things that make me happy continues with this super summery post (as I type, it's tipping it down with rain and I'm actually contemplating putting a blanket around my shoulders, like an actual nan). The last few weeks have been a whirl of family fun – we're trying to make the most of the time we have before the four-year-old goes to school in September. The brilliant thing about working freelance is that I can down tools and head off for a day of fun with the family, and then catch up on work in the evening. It's great! Here's what we've been up to…
Going up in the sky on the Emirates Air Line – Last week we were invited on the cable cars at North Greenwich. They've been there a while and it's been on our to do list for ages. It was so much fun! We parked at the O2 (check there isn't a huge event on before you go, as parking can be tricky on those days) and hopped on for the 20 minute round trip. You can get off at the other side of the Thames, and there are some restaurants and bars, and even a little beach there. But we stayed on, partly because we were really hungry and once we got off, the plan was to head to the Byron in the O2 for lunch! If you've already been on the Emirates Air Line, there's a competition running at the moment to win a pair of Canon Powershot N2 cameras and four return tickets on the Emirates Air Line cable car – just email them a pic you've taken in the air. I've entered with the above snap of the four-year-old.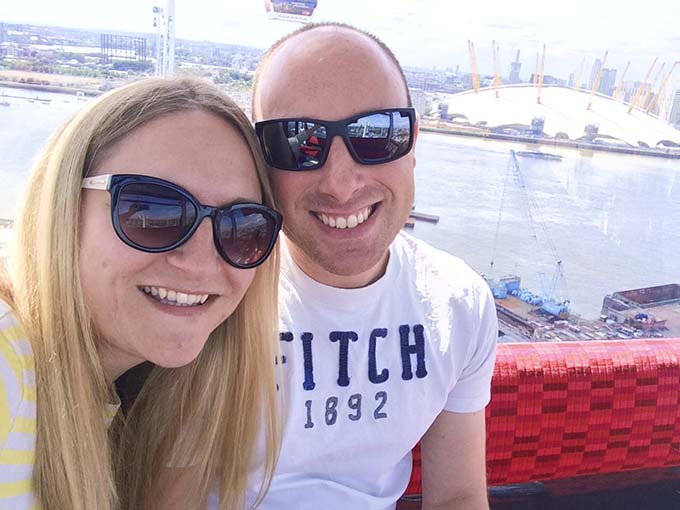 A cinema trip – we went as a family to see Inside Out. Have you seen it yet? If not, go! It's SO GOOD. I have to admit, having watched the trailer, I was bit 'meh' about seeing it, but Mr P was keen. Before we left for the cinema, the four-year-old had a little strop and told us she wanted to stay at home to play instead. We pretty much forced her out the door, with her saying "I'm going to close my eyes and put my hands over my ears, in the cinema!" (Don't you love the drama of a four-year-old!) Fast forward to an hour or so later, and she was absolutely transfixed by the film.
It was a screening put on by Subway, so beforehand, there was facepainting and sandwiches in the cinema foyer. As soon as we arrived, the four-year-old was suddenly into the spirit of the event, getting the character Joy painted on her arm and asking the balloon modelling man for a Joy balloon. But even still, we didn't realise how much she would LOVE the film. In fact, we all did. It's a beautiful story and like all Pixar movies, told so well. The short before the main film – Lava – is fab too.
H&M kidswear cuteness – we picked up this gorgeous outfit for the four-year-old in H&M Brent Cross. Watermelon shorts! We literally had to peel these shorts off her after around three days of continuous wear, so we could wash them. We went to Brent Cross for a blogger event which was so much fun. The four-year-old met actual Peppa Pig and after a bit of shopping (thanks Brent Cross for the voucher!) we went to John Lewis for lunch and a chat with other bloggers (hi Tinuke from Circus Mum and Anna from In The Playroom!) While we chatted, the four-year-old was kept busy with a bumper pack of puzzles and colouring goodies from John Lewis. The perfect day out for everyone, no!?
Meeting up with friends – Sometimes one of the best things you can do is meet up with a friend for dinner and a proper catch up, without children around to distract you! I feel lucky to have quite a few blogging buddies who live near me, and last week I met up with Katrina from Cool Bananas for a pizza and a gossip. I had serious hair envy…
Two other blogger friends that I saw last week were Fritha from Tigerlilly Quinn and Kathryn from Kat Got The Cream. We went to the opening of the new Joules store on Northcote Road in Clapham and over coffee and croissants, we learned all about the AW15 range and chatted to Martine Joule, Head of Brand Development, about the design process.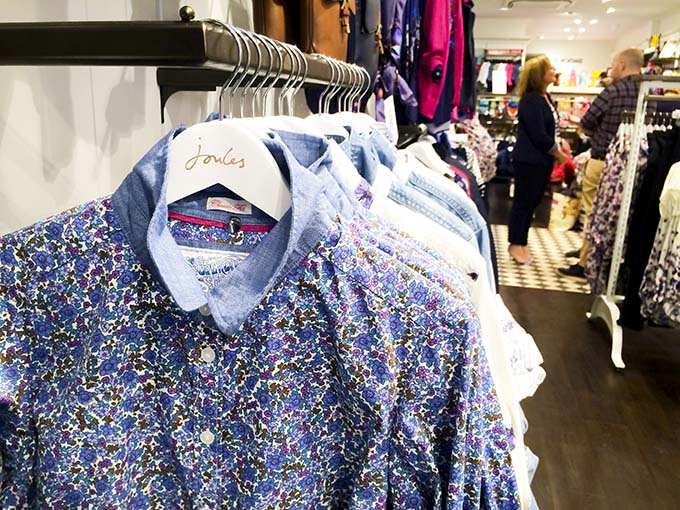 After that, we hotfooted it into Soho where we went to the Boden Christmas press day, which was such a treat. Held in an old townhouse on Greek Street, they showcased their cosy knits, sparkly girls' dresses, warm PJs and slippers and super stylish winter coats.
I always love how Boden style their events – it must be one of the nicest jobs ever to plan and execute something like this, sourcing quirky items and making it all look super stylish. After we had a good look around, Fritha, Kathryn and I found ourselves sitting on one of the sofas, resting our weary legs (Fritha had a good excuse, she is pregnant) and chatting while music played on the record player next to us.
Getting back on track with being healthy – I've spent the last few months being a bit lazy when it comes to going to the gym, and eating more junk than I should be, but for the last couple of weeks, I've been back on track, going to the gym 2-3 times a week and eating healthy salads. I'm back to drinking a smoothie for breakfast every morning (although my NutriBullet has gone to the big smoothie maker in the sky and I'm now using a Nutri Ninja which is – shhhh – just as good and £30 cheaper!) I feel so much happier when I'm eating well and exercising – can you remind me of this, please, next time I fall off the wagon?
What's been making you happy recently?