If you're anything like me, Christmas is a rather hectic (but lovely!) time with lots of people visiting, family coming to stay and the house fit-to-burst with people and fun.
We're lucky enough to have a guest bedroom but at Christmas, it's handy to also have a sofa bed for extra guests. Let's be honest, though, it's really easy for someone who's staying on your sofa bed to feel a bit like they're, well, sleeping in your living room. Obviously, that's because they are actually sleeping in your living room, but there are some easy ways to quickly turn your living room into a temporary bedroom for them. It'll make your guests feel much more at home and less awkward about it all.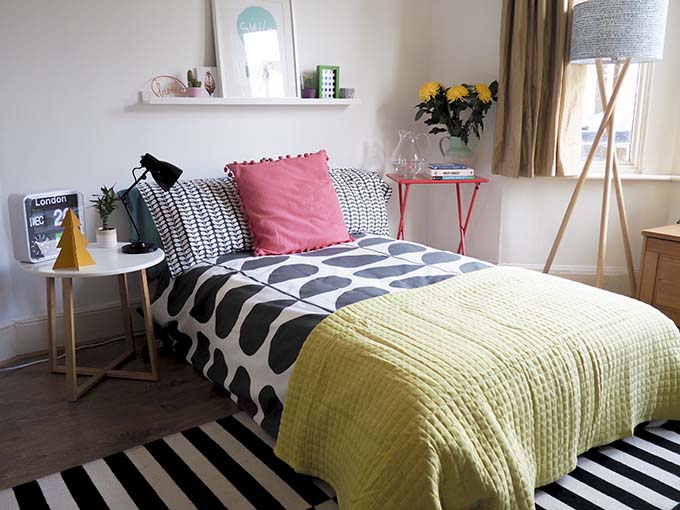 Try to make the bed linen fit in with the room decor, rather than having a clashing duvet cover. You'd probably make your guest room decor work together, so why not apply the same rules for this room. I've gone for a black and white print duvet, to tie in with the rug and borrowed accent colours from the cushions and pictures.
Have a small table next to the sofa bed – there's nothing worse than having nowhere to put your phone/watch/jewellery when you're staying at someone's house. This white table acts as a side table when the sofa is being used as a sofa, so it's ideal. Have a clock in the room, to help stop that disorientated feeling that's so easy to get when you're staying at someone else's house.
Pop a lamp on it, so that your guest doesn't have to do that mad dash from the room light switch to bed, using their phone as a torch. Also, make sure you have somewhere for your guest to easily plug in their phone charger and any other devices they might have, like a tablet or camera….