From around the time my daughter was seven weeks old, I took her to weekly music and sensory classes. I'm always singing to her, and encouraging her to sing. Watching her make the 'Twinkle Twinkle' hand movements as a nine-month-old was one of the loveliest mum moments ever. Music is so important to babies and young kids, so this guest post by Caroline Crabbe from nationwide music and movement classes, Jo Jingles is an interesting read...
Encouraging your baby or young child with music and singing is a great way of strengthening that 'mother/father baby bond', but it also provides some very real benefits to their ongoing physical and mental ability which will aid them in their early development prior to going to school.  Indulging in more regular song-time at home will provide your child with clear learning progression as they grow (although you might not even realise it!)
Just the basics of singing nursery rhymes at bath time, while changing a nappy or going on a car journey, as well as dancing or using actions to music will make a big difference.  Music is universal, it appeals to all cultures, all ages and all abilities.  When a baby is born, the neurons in the brain are largely unconnected and exposure to different stimuli helps to develop their neural networks.  Using music as that stimulus has been proven to help 'wire up' the brain and speed up a child's mental development.
Music will also help with other important aspects of early development such as language and speech, coordination and balance.  It's no great coincidence that  popular nursery rhymes are quite repetitive – think about Row, row, row your boat or Twinkle, twinkle, little, star – the repetition is key to this process of creating linguistic building blocks upon which little brains can start to make meaningful associations and melodic experimentations via simple rhythmic patterns.
Songs also help children to learn about the world around them.  Songs with numbers can help toddlers learn to count and exploring concepts such as colours, animals, transport and even telling the time through song, will all help with your little ones' motor skills and help with general coordination.
And finally, don't forget about all of the lovely social and emotional benefits associated with music.  It helps to strengthen the bonds of trust and communication between adults and children and encouraging this kind of musical activity at home can help with their self-expression and confidence in later life.  Put simply, music is fun – it doesn't need to cost you a penny and it's something that you can incorporate into your everyday life with little effort and little fuss – yet the rewards are clear.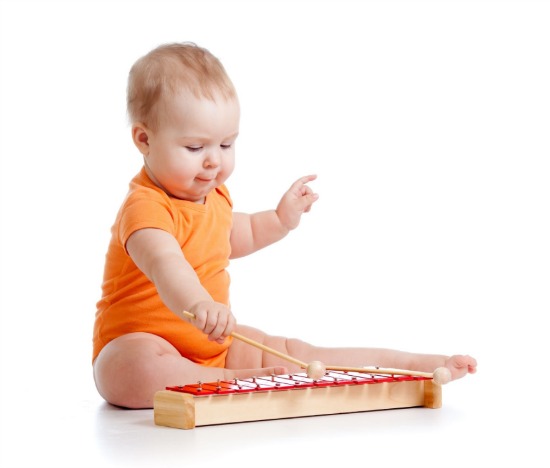 If this sounds like something you'd like to do but you're not sure where to start, here are a few quick tips:
Sing to your child regularly, doesn't matter where or when, just do it!
Don't worry if you fluff the words or think your sing out of tune – the reality is, be enthusiastic about it and your child won't mind a bit!
Make music actively – it's not enough to just put on a CD, if you don't interact with them it will wash over their head.
Don't over complicate things – babies respond best to easy uncomplicated nursery rhymes rather than those more suited to a nightclub.
Use simple actions – it is great fun and will help your child's coordination no end.
Make some home-made instruments to get truly musical – banging yoghurt pots together, or using a cardboard crisp tube with a handful or dried pasta – makes a great shaker.  Equally saucepan lids are great self-made cymbals!
 About Jo Jingles:

 Jo Jingles provides music, singing and movement experience classes for babies and pre-school children from three months to five years of age.  With nationwide sessions in more than 700 centres across the UK and Ireland and with over 90 franchisees, Jo Jingles offers well-established, structured classes that are fun, interactive and educational for little ones.
Launched in 1991, Jo Jingles continues to promote learning through music across many of the UK's nurseries, Sure Start Children's Centres, playgroups and mother & toddler groups. Jo Jingles Birthday parties and celebrations are also available to book and a range of musical-themed merchandise including toys, CDs and musical instruments can be purchased online at www.jojingles.com. 
Psst! This is an advertorial guest post.

If you liked that, you might like these: